Get the step-by-step plan you need to generate engagement, traffic and leads from social media.
There are more than one billion active monthly users on Facebook and over 230 million active monthly users on Twitter.
Use this workbook to learn how to use social prospecting to identify potential prospects, engage them and draw them to your website.
This social prospecting workbook will teach you the fundamentals of how to listen to social media conversations in order to generate leads for your business. This goes beyond simply monitoring keywords. It's about engaging people that may or may not know what your business can do for them.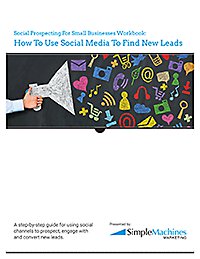 Each worksheet in the book includes: